General information
Microsoft Edge is highly recommended to be used in Education Portal (PE-Moodle), Office 365 and all available services in the packet. The program is installed on computers by default with the latest Microsoft Windows system. If necessary, it can also be downloaded and installed without administrator rights.
Why set a profile?
In simple words the profile allows for running a separate session in the browser. This results, for example in the possibility of logging into a given page as a user account keeping the login to the same page on a separate user account at the same time (as on the second profile of browser). Thanks to this solution we avoid many problems, for example related to the handling of multiple e-mail accounts by one user.
From this semester academic teachers will have their own mailboxes and also calendars both in the student and employee tenant.
Profiles
It is possible to create one or multiple profile users in the MS Edge. An icon that helps to recognize the currently selected profile is located in the upper right corner of the browser window: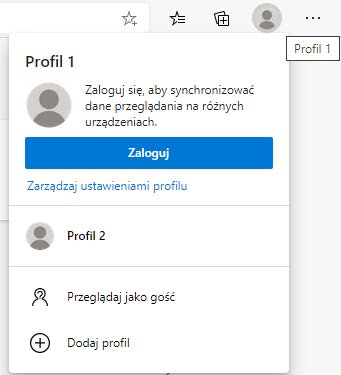 The Log option is not needed to work with the program and even less so to the correct operation of the profile. The Add Profile option allows you to quickly set a new profile. Click to open a browser window with the new active profile. It is also possible to use browsing as a Guest. However, it comes with some limitations, which are written when a window is opened in this mode.
The configuration of specific profile settings is available after selecting an Manage profile settings option, also there you can set up an account link required for login. This setting allows data to be synchronized on the user's various devices. From the setting management you can also switch between profiles or add next profiles. Additionally, you can also change the icon's appearance, which makes it easier to recognize the active profile and on the start bar (a tiny miniature appears).
Important: If the user has two Edge windows running, each with different profile chosen, then clicking on the icon and choosing different profile will automatically take you to the second window.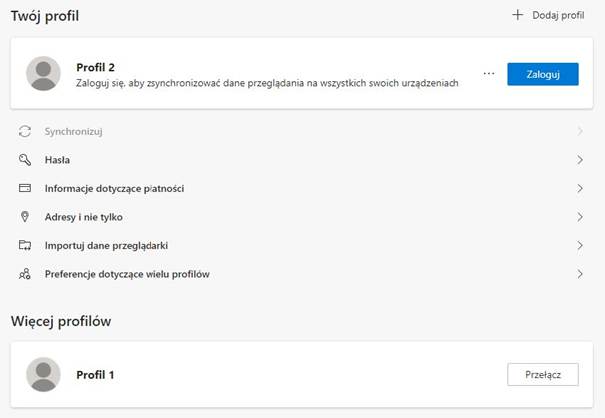 More details with the log on discussed options and the installation step by step in the footage of a Microsoft worker: https://youtu.be/HbvEau3-tuM.